Atom Jet Tin Race Car by Yonezawa Japan
We get to share some great photos of a challenging to find Japanese tin toy– The Atom Jet tin race car.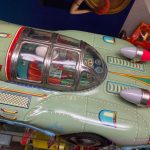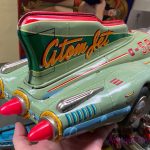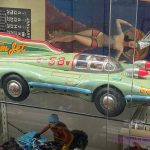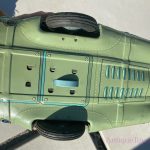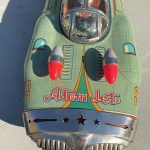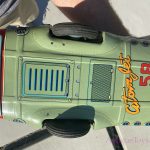 Swooping lines on this toy had to be pressed in an incredibly challenging process where the tin was stretched in many directions.  Don't forget the size– around 25″ in length!  Add to the space age swoops a tail fin as well as front headlights (simmulated), and then chrome brightwork.  Rear engines /flames/lights remind us of a 1959 Cadillac.
Atom Jet toy bottom graphics are just as thought out and colorful as the other parts of the car.  Later car toy lines used cost cutting measures and didn't bother, instead painting chassis black.
The cockpit reminds us of a zero or World War II fighter from Japan.  Surely there was some real world inspiration, as the toy was designed in Japan. We see a similarity to the Nakajima Torpedo Bomber cockpit.
This toy was owned by a Selah, Washington toy collector Ken Frank.  Ken was a lover of all things with four wheels and an engine!