Buying Comic Books and Comic Art in Tampa, St Petersburg, Sarasota, Florida and Nationwide
We tread into the area of Comics very carefully.  We are currently buying comics and have interest in the history, the comic art, the quality of the action, and comic coloring.  AntiqueToys.com is based in the Sarasota area as well as Tampa and St. Petersburg, Florida regions.  We travel to collections to see and buy comic books and Amazing art.
The comic world is amazing and often a different orbit from the Antique Toy collecting world.  Toy collectors, though, value box art.  Box art morphs into an appreciation of early comic like covers and eventually a deep appreciation of period art.  
Box or comic art that is well done stirs the soul and transports toy buyers or box or paper buyers into looking beneath.  Look under the lid, look under the cover; buy the object.
We would like to buy the Golden Age comic Daring Mystery Comics, January, for instance.  We love the saturation, the detail, the girl, the rocket-car, the zombies!  Deep reds, golden hues, men of action with maces!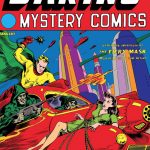 We would love to purchase some original comic art to see the hand made work.  The earliest comic art before the printed comic art.  Again, like with toys, we love prototypes or working models.  With comics, this represents the earliest hand made love where ideas changed, modeling moved, detailing evolved.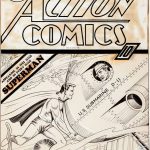 Send photos and contact us at toys@antiquetoys.com as well as the phone number 727 777-4206!
Ed