Collecting cast iron toys have been mostly associated with American toy collectors.  As such, I wanted to assemble some cast iron toy photos for everyone and to make the site more popular with search engines.  Here are some highlight photos to share.  You will notice the wide variety of shapes and sizes.  Prices tend to go up as the toys become larger, have more accessories or parts, and the more paint color applications.  Supreme, top of the food chain, cast iron toys tend to be automobile or aviation-related items.
Cast Iron Toy photos below: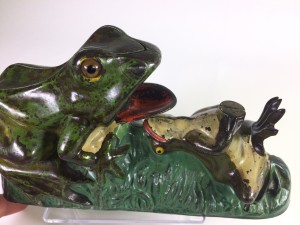 Beautiful JE Stevens Frog cast iron toy Bank
Hints for Newer Cast Iron Toy collectors:
Get what you like.
Note that paint wear and flaking are normal on cast iron toys.  Paint will age and even flake with time, as primer wasn't used.  Take wear as "a patina" and expect it.
Consider using a silicone rag to wipe these down and keep oxygen off of corrosion spots.
Always consider a dust-free storage area, as dust will eventually damage cast iron toy paint.
Consider taking cast iron toys on take-on luggage on trips.  There have been a few stories about collectors starting with a mint toy, putting it in airline luggage, having a thermal shock to the toy, then seeing paint fall off upon delivery.  Extreme temperature changes are dangerous!
Be careful of UV lighting from the sun, and also stay away from fluorescent lighting when possible.  Both will slowly fade paint colors.
On a side note, I would love to hold one of the Vindex cast iron Triplanes in the large size and in excellent condition.  Let me know if one is available for a very fair price.
Then I'll leave you with some personal thoughts on cast iron toy collecting– You have to hold these and see them in person to have a deep appreciation.  Photos get scaled, so I highly suggest visiting a dealer or cast iron toy collector to behold these in person.  The weight, the cool temperature, and the craftsmanship are not at all apparent over the internet.  After getting hooked in person, it is easy to see why these toys are addictive to collect and how cast iron toys have been similar to gold in their ability to hold value.
Cheers & Happy Toy Hunting!
Ed
P.S. -A multitude of these are available in our Cast Iron Toys for Sale section.  Also, here is a link for just Cast Iron Toys