Dent Cast Iron Cars and Trucks
Through good fortune as of late, we have been able to enjoy toys made by the American cast iron company Dent.  Dent's history is one of preciseness, success,  and then an end to the toy production.
Dent Hardware Co. Fullerton, Pennsylvania
1895-1937 ( continued to manufacture cold storage hardware until 1937).
Founder: Henry H. Dent, with four additional partners
Specialty: Cast-iron and aluminum transportation toys and banks. "Pioneer" fire truck, Ford Tri-Motor, and large hook-and-ladder toys were popular items.
One of the more consistent attributes (not always though) of Dent toys are the solid steel wheels.  The factory had a habit of often putting metal discs on their vehicles and then painting the inset in striking colors.  Take for example this car, plane, or bus below.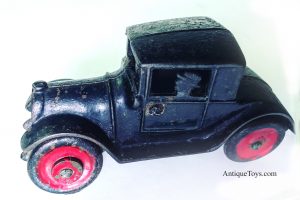 In terms of manufacturing style, it appears that Dent didn't wish to corner the "scale model" category, but instead worked to make interpretations of objects into toys.  Proportions on many Dent toys get a bit of artistic treatment- wheels are not per-production, widths are often diminished, heights are often exaggerated.  The tooling and design departments had liberties.  You can see that the school bus is quite tall and skinny.  The smaller black car is a bit skinny and has a molded in driver.  Arcade, on the other hand, went for scale model looks with their cars; drivers would be separate and proportions would be realistic. Hubley often did the same and molded many separate details; think of the Elgin street sweeper.
In the same breath, the Amos and Andy car featured at the top is realistic.  Effort must have been put into making it true-to-TV.  Also the Standard Oil C-cab tanker below crammed a maximum of looks into a minimum of parts (but still used disc wheels).
As a collector of many toy areas, I've seen ultra-precise toys become supplanted by more and more perfect models.  Additional details get added, painting gets more polish, and there is one-upmanship (at a steep price).  So my personal interest isn't in preciseness or perfect scale looks.  It hurts when your old toy becomes outdated. My interest drifts towards the sculptural looks and overall aesthetics of a "piece", similar to art.  There is just something intangible about great art and great toys.  Dent gets high marks for their looks and artistic interpretation.  Their work is almost like Impressionist art.
Since we are on the subject of Dent, I'll add that Dent plane toys were locked out of licensing Charles Lindburg planes or other desirable affiliations.  It is difficult to say if this was budgeting, lack of interest, or simply a result of being a smaller maker.  Regardless, the "Lucky Boy" set of aircraft are a clear nod to Lindy.  Possibly this was a smart way to shave some cost.  There were never official Ford, Chevy, International, or John Deere products.  I'd give a few dollars to get a first-hand account of how the kids viewed it.  Was the toy viewed as a cheap imitation of Hubley's Lindy planes, or did the public like it?  Did the kids enjoy just the toy or did they crave popular branding?
Ed
Search Dent Toys for Sale Here: Dent Cast Iron Toys for sale