Felix the Cat Toys and Tin Felix Wanted
Felix the Cat Toys Wanted and Bought
Felix toys get our attention despite them being outdated, old, and "history" for most collectors.  Yet we like Felix ourselves and feel that the character's design and Felix toys transcend trends and become timeless.
Felix The Cat History
Felix tin toys have been popular for us and we have a few collectors looking for variations as well as upgrades.  For our personal collection we would like a Felix Ferris Wheel and car.Please contact us at toys@antiquetoys.com with photos of any Felix toys you have for sale.  
We especially like the Nifty brand toys on platforms with a standing Felix.  There is also a nice German car with Felix hood ordainment that we would like to track down.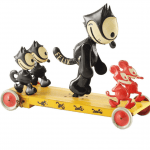 FELIX the CAT had a very humble beginning as a curious, mischievous and inventive little character as first conceived by New Jersey cartoonist Otto Messmer.  History footnotes his creation around 1919 by Otto Messmer as well as Pat Sullivan getting credit too (debate has ensued).  He was more popular than the live silent movie stars and world leaders of the same era. His squat, angular, black body and huge, wide eyes and grin were instantly recognizable. He is considered the first true animated movie star. His first appearance was in a short film called Feline Follies.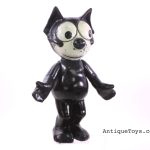 Did you know that Felix was theFIRST image to be transmitted across the waves for Television.  He was used for the first RCA Television cameras and broadcasting 1928.  The simple black and white animation cat was perfect for broadcast testing.