Fabulous Fischer Toys from Germany Wanted
Give to get.  Share, make others stronger and they may help give back.  So in the interest of digging up more catalog data and more toys here it is– A fabulous G. Fischer Toys catalog circa 1924.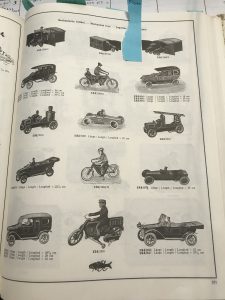 We are looking to purchase some of these toys for our museum contacts, friends, and a few for us.  So let us know if you have any to sell please.
To begin this tale, you will have to reference the 1924 section of Der Universal- Spielwaren-Katalog aka German Toys catalog reprint from 1924 and 1926.  This hard cover book printed in 1985 is a treasure trove of information.  Pages are not necessarily broken out to easily ID the manufacturer.  We keep getting sharper.
Reference this German toy book page 251 and page 252.  We note the section having prefixes of 134/ and note it is the semi-hidden manufacturer code.  The fish with ribbon symbol is below, so this one is a slam dunk as George Fischer toys.
Fischer made some great motorcycle toys as well as early auto toys we would like to see in person.  Those on page 251 are tantalizing. But turn the page.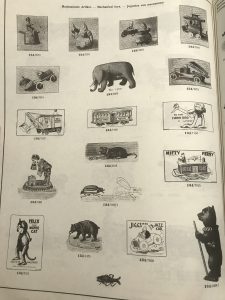 On page 252 we see proof of their affiliation/liscensing of the Powerful Katrina toys, Felix toys, Jiggs, and Nifty toys and Toonerville toys.  Our favorite is the 134/7074 fat lady on truck.  Toonerville comic fans can ID her as Eppie Hogg and driver Skipper.
Email us if you have more Fisher catalogs to share please!  Let us know if you can part with any of these historic toys, wish to buy or sell.  We love learning more and networking!

Ed & Staff