German Tin Train Mystery- Carette Toy?
German Gloria Tin Train Mystery 
We have a mystery on our hands.  In fact we have a mystery that may be solved by looking at the hands; the hands of a small instruction sheet.  Help us please!
The box and illustration appear to be from the late 19th century.  After speaking with other collectors, we feel it is from the 1890's.  There is an instruction and paper label (marked Germany) to help our research.
Intense coloration is likely "spirit painted" and not lithography. This ultra thinned paint gives the handsome translucent quality, as seen in the peacock blue, green, and gold sections.
The "Made in Germany" label is not a German invention. It came about as part of the British Merchandise Marks Act, which took effect on August 23, 1887. The act aimed to ensure that all foreign products – which could potentially threaten the success of British merchandise – were branded with a label. It was an attempt to prompt British buyers to "buy British."
Our multi color train reminded us of Hess, but then again it didn't quite fit the bill.  Hess train toys of Germany tend to have a smaller scale.  They tend to use primary colors.  They do use flywheels.  Our train toy doesn't use the same style of graphics, but it does have flywheel.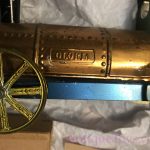 Then we made a call to our Hess expert acquaintance and he mentioned Bing.  He thought that the rear wheels reminded him of what he'd seen on a Bing tin toy.
I recall seeing this on the 1898 Organ Grinder bigger and child steam toy (A Veteran in fact with Peg Leg).  Here is the toy, and you will note the deep molded details on the wheel that are eerily similar.
We then noted that on the sleeves of "the Hand" on our instructions is a "C.C." marked.  Hmm.  We did not trace ANY company within Germany to a C.C. name.  We do however know of a Carette and Co (likely culprit).  We also know this was likely an American market toy with cow catcher (versus the box illustration for Europe without the catcher).  It is a challenge to see a "G" from the first letter which would be a proper "G.C." Carette marking.
Next, we note that Carette was a supplier of Bing.  It would make sense that these deeply detailed parts were similar to what they also supplied to Bing.
So help us please!  Have you heard of a C.C. company from Germany?  We may have a G.C.Co that the sketch artist did…… but a catalog would seal the deal.
Thanks in advance!
Ed 
toys@antiquetoys.com