Japanese Tin Toys for sale
Japanese tin toys for sale- we get a number of tin toys from estates and want to put the word out. Please visit our vintage and antique store for Japanese tin toys from Bandai, Nomura, MT or Modern Toys, ATC, Haji, and the like.
We have been fortunate to network with some of the biggest Japanese tin toy collectors in the world, especially in the area of tin automobiles. Be sure to stop by our toy shop and inquire with us by email.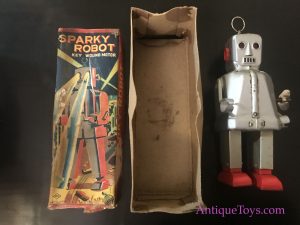 Ed