Marklin Merry-Go-Round tin toy
-We just wanted to do a bit of picture sharing and discussion.  Thank you to all our contacts around the world bringing us Bing, Marklin, Arcade, Marusan, and all the amazing toys based on networking.  It is about our friends and network and helping them; they have helped us back.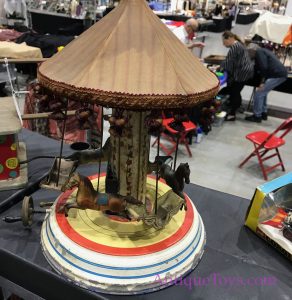 One of the nicest toys this year we helped curate was this approximately 1915 Marklin steam engine driven Merry go round with clockwork music box.  The toy was in very used but original condition and we enjoyed its time with us.  Ultimately Noel Barrett of the Antique Roadshow helped us publish details and Noel did well in getting the word out.  It found a new home in Europe.
The painted details on the undulating rose vine along with the hand painted horses made us melt. The concentric circles that were hand painted on the base made us want more.
-Enjoy the photos and thank you to our network of toy collectors, museum owners, and friends.
Ed