Old Toy Cars for Sale and Antique Toy car buyer
Our site has a growing list of old toy cars for sale, so check us out please.  We sell old toy cars around the world and have been helping older collectors liquidate.  Recently we sold toy cars from a well known Florida collector.
As an example, we buy and sell Japanese toy cars like those from Marusan aka San, ATC (Like the ATC Chrysler Imperial), and Ichiko.  Call us if you have a large scale Packard Japanese tin for sale, it is on our personal want list.
Old Toy Car favorites include those by Carette and German toy car makers like Marklin.  Carette toys usually have top notch tin printing, aka tin lithography with gold.  Carette toys are usually marked Carette in some form and tend to have very nice pressings and details.   Marklin old toy cars tend to have a very heavy and stout gauge of tin; in fact double the weight of most others.  Then Marklin toy cars have hand painted details that are lavish, as are the overall appointments.  
Hess old toy cars are another favorite with their flywheels.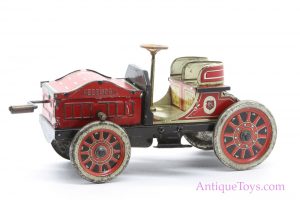 Then we are looking for American toy cars like Converse toys, so please keep us in mind if you are selling.  They tend to have very good proportions, often use wood, have the American primitive steel pressings, and have windups. Here is our article on Converse Cars:
https://www.antiquetoys.com/morton-converse-toy-cars-wanted-circa-1912/?v=7516fd43adaa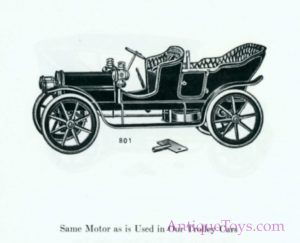 Our biggest toy car interest is in high condition toys.  We love it when we get calls and can adopt out a 100 year old treasure that has been treasured by a family and saved with box.  Some of these toy cars stay in our collection and  shared with readers.  Others get adopted out as we have a strong following looking for that specific toy.
Drop us a line and please network on your Old Toy Car want list as well as any you wish to adopt out!
Ed