Arcade Cast Iron Toys
Arcade Cast Iron Toys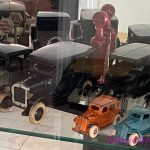 Arcade Cast Iron toys are some of the finest metal toys from the pre World War 2 era.  They were made in Freeport, IL and well cast in iron, then sanded, painted, and detailed with love.
Early Arcade Cast Iron was often licensed by automobile and truck dealers, even used for promotional items.  Chevy dealers as well as International and Ford dealers used these cast iron vehicles along with custom touches.
Some of the favorite Arcade cast iron toys include their airplane lineup which go well with their cars and trucks.  Farm toy collectors love the Arcade tractor toys, and the list of quality iron toys from Arcade goes on!
1885 –The Arcade Manufacturing Company is incorporated on October 20, 1885. A month earlier, Al Baumgarten purchased the patent for a new cork puller, invented by the Morgan brothers. This cork puller becomes the company's first product. Officers for the new company are: Al Baumgarten, President, Cyrus Tobias, Secretary, EH Morgan, Vice President. The name for the new company may quite possibly have come from Al Baumgarten, who for several years prior to partnering with the Morgans, operated a saloon and pool hall called "The Arcade." The company's product line soon expands to include coffee mills and other small hardware items.
Call or email us with any Arcade toys for sale!
Showing all 6 results