Still Bank Collecting and Road Trip Collectors
Yet another road trip and yet another wonderful toy collector host!  I'm speaking of an absolutely unexpected visit with a Mr. D, a renown still bank collector.  My family vacation up towards the Atlantic coast ended up in a picturesque small town.  In typical fashion I asked around for more toys and if there were any local collectors.  "Yes, there is a toy collector I really think you should meet."
Well…. there are collectors, and then there are gentleman that instantly feel like friends.  This still bank and cast iron collector doesn't just hoard, he shares knowledge and is a gracious host! Even though Mr. D had family events to attend to, he invited me by phone over after lunch.  Greeting me was a beautiful home, loving wife, and a supremely knowledgable collector of cast iron and stills.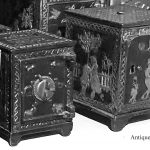 I was able to observe very early ceramic banks in person, a rare treat.  Many of them were known as "birth banks" that were crafted in ceramic and had the date of birth/manufacturing on them.  He also had some commissioned ceramics in classic jug bank form.  I was able to tour other incredibly rare silver banks, many of which traced to Europe.  I wasn't familiar with this form of toy, but I quickly learned that artists hand crafted very intricate forms all in the name of kids thrift.  Finally, and my favorite, I was able to see very early J.E. Stevens and K. Rex stills next to early 20th century still banks from A.C. Williams.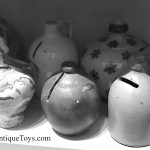 We had a great visit even with my kids at hand.  I was able to see the collection and get the tour of some great books, resources, guides, and then in-person visuals of a long time collector.
Thank you sir and I look forward to more great networking!
Ed