The Steve McQueen Collection-Throwback Post to 1997-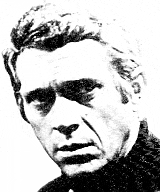 Movie star / Race Car Driver – "Put Steve McQueen behind the wheel of anything and you've got a movie," one Car Place reader wrote in voting Bullitt the best car movie ever made. By a sizable margin, Car Place readers selected Bullitt as the best car movie. In this famous movie, detective Frank Bullitt (McQueen) drove a Ford Mustang fastback in pursuit of the bad guys in a Dodge Charger. There were many memorable scenes in Bullitt, but no one who saw the movie will ever forget the chase up and down the hills of San Francisco, with both cars becoming airborne at intersections. And no one will ever forget the fiery finale for the Charger and its villains.
McQueen reportedly did his own motorcycle stunts in The Great Escape, and likewise did much of the car driving for Bullitt. In fact, McQueen drove both the Mustang and Charger in many of the chase scenes! The director had called for speeds up to 85 mph through the Frisco streets, but McQueen topped 110 mph behind the wheel of the camera car several times.
Abandoned by his father, he was a reform school kid with nothing going for him and a giant chip on his shoulder. He joined the Marines, but never stayed far from trouble. Then he discovered acting – and the woman who would be with him for most of his meteoric career. He was one of Hollywood's highest paid stars – and one of its most difficult, most rebellious and, when he wished, most charming. His story is told with film clips from his greatest performances, including The Magnificent Seven, Love With The Proper Stranger, The Cincinnati Kid, The Reivers, The Great Escape, The Thomas Crown Affair, and Bullitt .
Steve McQueen and James Dean were both were products of Actor's Studio. Both were rebels. Both defied Hollywood star standards and both died too young – Dean at 24, McQueen at 50 – but each left us a legacy of film work that is immortal.
Featured below are toys that were once owned by Steve McQueen.  Antique Toys was very fortunate to have been able to purchase these priceless memories and now presents them to you to add to your memories.
If you are interested in a certain toy, please contact us and we will be happy to provide you with all the information we have.
---
Item (HBLY 021) Make: Hubley Helicopter- Year: 1950's –

SOLD


Type: Cast – Size: 9″ / 22.9 cm
Condition: Mint (Steve McQueen collection)
Price $150 US Closeup View
Item (MC 039) Make: Metal Craft- Year: 1928
Type: Formed tin – Size: 27″ / 68.6 cm
Condition: Good, some superficial rust (Steve McQueen collection)
Price $800 US Closeup View
Item (#065) Make: French Manufacture – 1909 (Aprx)
Type: Tin – Size: 18″ / 44.9 cm
Condition: Excellent (Steve McQueen collection)
Price $1,250 US Closeup View