Tin Toy Collector and Florida Visit
Tin Toy Collector and Florida Visit
With a bit of delay, I'd like to share some photos that highlight a great visit to a Florida tin collector's home.  Mr D was kind enough to host me and talk toys; afterwards we toured his collection and saw some of the best in Lehmann toys as well as numerous American tin toys.
Jackee, The Hornpipe Dancer typifies some of the great toys Mr D has in his collection.  It is rare, it is American by Ferdinand Strauss, and it is in excellent condition with box.  "Insert rod in figure, slip the rod into the tube which projects from the boat.  See that the button is set at "stop".  Wind up by turning the key to the right, then move the button to "start" and the Sailor will dance.  The dancing of the Sailor can be started and stopped at will by operation of the button."
Above are photos of a Fischer bike windup.  This chain drive variation is different than the external windup versions I have seen before.
Later I was able to see quite a few Lehmann toys, with two versions of the three wheeler vehicle, the 700 car, two Chinamen, Naughty boy and many others.
Then we looked at a few 60's toys and accessories.  The Fred Flintstone lamp shown below was a favorite.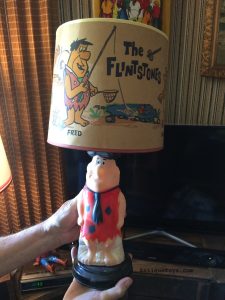 Thanks Mr D for hosting, it was a very enjoyable visit!
Ed