Toy Appraisals and Old Toy Collection Help
Toy Appraisal Start
Get your toy appraised here!  We love the appraisal research and enjoy helping family members, estates, insurance companies, and collectors themselves.
We often start with photos and quick details emailed to Toys@AntiqueToys.com.  Give us a quick introduction and your toy's background.
Antique Toys can appraise your toy based on experience; backed by  hundreds of catalogs, hundreds of auction books, thousands of results records, and our extensive network.  We can lean on catalogs from the makers themselves, as well as out of print resources that are priceless.  The Appraisal library at AntiqueToys is one of our favorite treasures.
Pre Appraisal
We are more than happy to do a free appraisal to get things started.  If you are satisfied, we can then discuss a fair and equitable agreement for our time.  We simply ask for help when we spend an extensive amount of time researching.
Quite a few times clients call us and we provide a direct cell phone number for pictures.  Most of the time we respond within 12 hours and share a high level understanding on the toy's value and category.  Does the appraisal fit in the $0-100 price range, the $100-500 range, or something more substantial.  We enjoy the puzzle and history so it is our pleasure.
Final Appraisal Steps
Then let us know the form of appraisal you desire- if you need insurance values or resale prices.  How many toy and price details do you require with our follow-up? We can make spreadsheets, work informally, or make certificates to share with loved ones.
So Contact Us!
We look forward to working with you in the future and please fill out this form on the Contact Page to start the process!
Click Here: Toy Appraisals and Contacting Antique Toys , or we can easily start with photos emailed to Toys@AntiqueToys.com .
Respectfully,
The Staff @ Antique toys!
P.S. You can call us 8AM to 8PM EST for questions @ 727 777-4206 .  It would be our pleasure to help.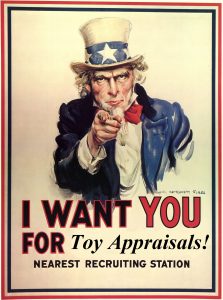 Old Toy Appraisals!

We "Want You!" & your toys for toy appraisals and help! We help with Old Toy Appraisals and collections. Wouldn't it be wonderful to find out you have a valuable old toy like the Antiques Roadshow?