Ubelacker, Carette, Fleischmann toys and German corporate toy Heritage
Ubelacker, Carette, Fleischmann toys and German corporate toy Heritage
This article is to reach out and network.  It is of conjecture, and likely a reach for data trapped inside the minds of senior collectors.  It is a venture in the the dark world of history that has been lost from 'popular or common knowledge'.  We are in search of catalogs from Ubelacker and then of a link between Ubelacker of Germany, and a likely successor of their boat making, Carette, to then the known link-up with Fleischmann.
We note that Ubelacker deserves royal treatment in the world of very early hand painted tin toys.  Their name rolls off the tongue similar to the native Indian name of Homosassa in Florida.  It takes practice but is steeped in pre-1900's history.  There is proud history there.
Research shows a $24,000 Ubelacker boxed Zeppelin with pontoons that sold at auction.  We've noted the Early hand painted toys that fascinate.  We came across a hand painted Little Navy tin ship set that melts the brain.  In these toys we have noted the Gold metals that were won (or at least advertised as won) by the company; often the toy boxes show these off.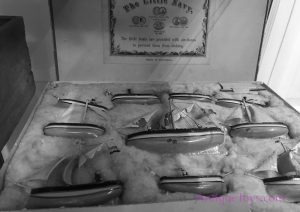 This trail goes cold though.  The ship hulls with distinctive triple colored bowed designs that terminate in a pinched nose look familiar.  The comes Carette toys catalogs that appear to absorb and reuse the ship hull designs.  Do we have an affiliation?  Do we have a supplier?  Did Ubelacker tin toys of Germany get bought out be Georges Carette and then neatly folded into the famous toy maker's line of products?  Help us.
Here are some photos to note and tin ships to compare.  We have shown patent paperwork filed by Ubelacker in the 19th and 20th centuries to see more of their work.  We thirst for the catalogs to get further details on these toys and similarities.  Please assist us, and thank you in advance for sharing!
Ed