Video Game Cartridges Wanted, Bought, Sold & BLASPHOMY!
For the Antique Toys crowd I will speak BLASPHOMY– Video Game cartridges will become "the next thing" in antique toys.  We need to simply sprinkle in some dust and time.
Yes, the tangible world of toys– the world of steel, tin, springs, wood, lead paint, dust, grease, and rubber– will be evolving in the near future to silicone wafers, black plastic, cardboard (hopefully), and shrink wrap (ideally).  Video Game cartridges are sought after and deserve a bit of recognition to say the least.
Did you know– Video Game cartridges cult buyers outspend Buddy L buyers?  
Did you know that graded cartridges collectors are like numinists (coin collectors) with their lust for grading?  
Did you know that Bandai 1988 "Stadium Events", a fitness mat based Nintendo game (think pre- Wii) has traded between $3,000 to over $10,000 depending on the box?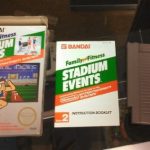 We have a traveling Bell Curve of interest my fellow collectors.  The "It" toy at the peak of this interest curve moves as time passes.  Arguably cast iron toy prices peaked.  Arguably steel toy prices peaked, as did 60's toys.  Today the 1970's toys are in their heyday as well as the 1980s toys.  The 1990's toys tend to be on digital wafers; like it or not the toys of the late 80's and 90's were on video game consuls and are exemplified by cartridges.
Long live the video game cartridges!  You laugh, but we would love to buy a sealed collection of these for our library.  It is the strong opinion of the AntiqueToys.com team that we need a few extra clean and boxed video game cartridges to show how "Toys" have evolved and continue to do so.
We have a deep toy lust for pre-war toys, and enjoy a few items from each of the following decades.  Plastic figure collecting is the current rage, and that has evolved into black plastic cartridges, packaging, and silicone.
Ed