Windup toy boats, Mahogany Boats, and Tin Goodness
Windup toy boats, Mahogany Boats, and Tin Goodness.
In the spirit of the New Year, we are reflecting on some of our favorite inventory that sailed away.  There is such a shelf presence with toy boats! We've enjoyed being curators to some and look forward to new purchases and consignments.  We are also noting our new acquisitions.
One of the boats that we adopted out was an early Fleischmann (sometimes noted as a Carette, we think improperly).  It was a toy type featured in Jeffrey Levitt's World of Antique Toys on page 200.  The boat was made circa 1900 and featured a hefty set of tin panels hand soldered and then hand painted.  There were four smokestacks, an upscale touch, and then a winch as well as working windup.  We miss it, but found a great Florida home for it; a home via the Allentown, PA toy show.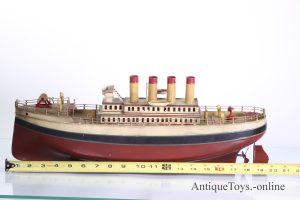 We have a replacement tin windup of the same caliber that just came in.  It is a Gebruder Bing toy from 1906-1912 based on the logo.  The tin boat is a challenge to find any catalog documentation.  It will surely be placed in a collection and hide away for decades.
Then we took a chance on an Asian importer of fine mahogany boats.  We imported a set of three boats in a range of styles and have placed two already in homes.  They are static models, so stray from our normal toy creedo.  The thought was that toy boat prices have gotten so pricey, we wanted to have a few moderately priced options.  We currently have the Ferrari boat offered for sale here, and you can see the quality:
Next we reflect on traditional Mahogany toy boats.  We saw a Mengel Miss America quickly reserved by one of our readers.  It has been a joy to see, as it is simple, sleek, and features mahogany and then solid brass fixtures.  The boat has a great Yankee name, and harkens to patriotic post World War I times.  The knurled rudder knob was unusual to us and beautiful brass overkill.  Any boat with a set-back cockpit captures our hearts, as they are from primitive race boat roots.
Going forward, we have some windup and steam boats coming from Kellner of Germany.  These wood and windup boats deserve to be in the spotlight, as they were the logical evolution from tin toys; toys that actually float dependably and can take a bit of use.  They also cruise faster then their predecessors and were a bit more affordable.
So to sum things up, we have enjoyed being a boat dealer!  It is a very strong area for collector interest and challenges the toy auto collectors for supremacy.  These boats tend to sail into collector offices and not come out for decades.  There is just something soothing about imagining an outing on these elegant cruisers.  As I say this, it is time to get out on the water, but for real soon!
Ed