WK or Wilhelm Krauss German Tin Toys
It is that time again to network. We are looking for toys with the WK or Wilhelm Krauss symbol on them. They come from turn of the century Germany and are likely tin toys with windups.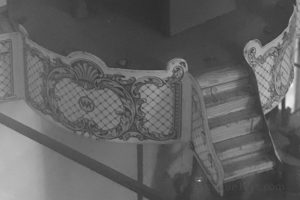 Here we have a WK tin ferris wheel in the collection to share. It is a great one with tin airplanes and gondolas.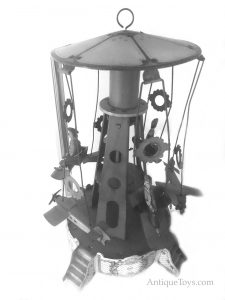 Next we have a pair of WK steam toy dancers. They were recently offered at auction and are apparently comedians of the time. Arms and legs jingle as the toy raises and lowers.
Finally, there is this larger WK motorcycle we would like to have in our museum collection. It is well scaled and lithography is the typical German exacting style. We would also be interested in any similar German tin motorcycle toy with or without sidecars.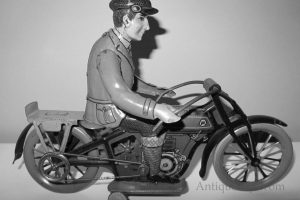 Possibly the best call could be if you have a WK catalog. That or email us to toys@antiquetoys.com if you have photos/catalog/ company data to share. Thanks in advance!

Ed