Estate Toys For Sale and Liquidation
Estate Toys for Sale– Visit and Referrals
This week has been a great one for reaching out and seeing toy collections. Monday entailed a visit to a bank collector.  On Wednesday I had the privilege and yet somber task of seeing a large toy collection and assisting the estate.
We ended up going to the property two weeks ago and consigning a handful of pressed steel and cast-iron toys. This week was a follow-up to gather more toys and help out.  Previously the estate had worked with an individual that " cleaned out" quite a few toys without necessarily consulting with the estate properly; sales were then put on hold for some time .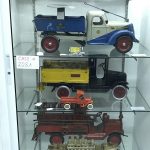 So on Wednesday I had my follow up visit, and we discussed our sales plan– how to help get their toys into the hands of collectors. Instructions were to sell the toys at a fair prices and work through some beautiful consignments. I explained how historic values have changed, and quite a few toys reached their peak price about 10 years ago. Astronomical prices have settled down and current prices are in flux.  After talking business and working out the details, we were all excited to get more toys to market.
At this juncture in my writing, I want to take time and express deep appreciation for personal referrals– only  through a wonderful referral and fellow collector was I able to step foot on property and help out. It's been my privilege to assist and view toys that have been in storage for at least five years.  Much of the collection had been private for decades before then.
The Estate Toy Collection
Next we re-visited the house and there were large steel toys placed high along shelves in a vaulted room. These were prized possessions of the collector;  it is been a privilege to dust them off and bring them in the market.  It was a representation of the best of large pressed steel toys.  Quickly I could see Buddy L, Buddy L Jrs, models, Keystone, and SturdiToys.
Later we visited the 1000 square foot garage workshop and loft.  The areas were mostly emptied by the previous sales, but there were still some nice tidbits.  One display case housed an assortment of construction, car, kitchen, and animal toys.  We thought that current toys were all sold earlier.
Part of the previous  sales "cleaned out all the Star Wars toys and 80s toys".   Expectations for 70's toys were low, however we lucked out in our visit and we opened up a bin with a nice surprise. Inside were 12 inch Star Wars toys boxed in a couple of them are still sealed.  My robot favorite of IG-88 was inside along with Luke and a Bobba Fett and Leia, and a Storm Trooper and……    It was a treat.  There will be future visits to review other areas of the property and find new treasures.
Post-Visit Toy Collecting Thoughts
I also had a chance to reflect on collecting at an epic level.   Our work reflected a third or fourth toy liquidation, and yet there were amazing items everywhere (still).
Massive stockpiles of toys can bring undue stress to your love ones should your time come.  This visit made me thankful that I thinned out my collection a few years back, as there is even a burden of possession (in life too).   My wife can appreciate tens of items and kids maybe hundreds of items.  However thousands of toys or collector items create an encumbrance for loved ones.
My job represented a way for the estate to refocus on the future and share the past with the toy community.  I felt that moving each set of hefty toys lessened the weight on the family shoulders.
Ed