The Hubley Manufacturing Company was first incorporated in 1894 in Lancaster, Pennsylvania by John Hubley. The first Hubley toys appeared in 1909 and were made of cast iron, with themes that ranged from horse-drawn vehicles and different breeds of dogs to tractors, steam shovels, horses, banks, and guns. Hubley's main competition in the early years was Arcade as well as a bit from A.C. Williams.
For Hubley Cast iron toys we offer for sale, click on the link: Hubley Cast Iron Toys
As a cast Iron collector I can say that Hubley did a great job of getting a bit of "fatness" or "beefiness" into the toy mold process.  These toys always felt solid and durable as compared to earlier horse toys and other cast iron toy factories.  The impressive part of these toys was their excellent and relatively durable paintwork and then chrome plating.  After cast iron collecting and comparison, you will start to get a feel for the Hubley look.
Early toys were known for their complexity; a delicate 11-inch long Packard Straight 8, a five-ton truck that came complete with tools, a road roller that came in five different sizes, a steam shovel with working arms and shovel, and Chrysler Airflows with take-apart bodies.  Hubley was especially known for its many motorcycles, which were creative and often included sidecars or hooked to delivery vans that said, for example, "Say it with flowers" on the sides.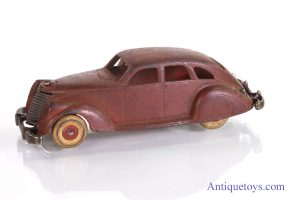 The 1906 Hubley catalog is dominated by fire-fighting regalia.  Kids could choose from pumpers (aka fire engines), fire hook and ladder wagons, and horse-drawn hose reels.  Keep in mind that the Great Chicago Fire of 1871 was still a formative memory for designers and parents.   Historical note– the city of Chicago determined that the fire destroyed an area about 4 miles (6 km) long and averaging 3⁄4 mile (1 km) wide, encompassing an area of more than 2,000 acres (809 ha). It destroyed more than 73 miles (117 km) of roads, 120 miles (190 km) of sidewalk, 2,000 lampposts, 17,500 buildings, and $222 million in property—about a third of the city's valuation (more than $4 billion in 2016 dollars). Of the 300,000 inhabitants, 100,000 were left homeless!
Taking a quick survey of the 1924 Hubley catalog in the bank section you could choose from this selection– A Trick Monkey mechanical bank, a Trick Dog bank; Fido, Puppo, Elephants, Cuties, Indians, Bull Dogs, Santa, Dogs, Rabbits, Lions, Bears, and Elephants; all of these were still banks.
This same 1924 "Toy Catalogue of Iron and Steel Toys.  Manufactured by The Hubley Manufacturing Co. Lancaster, PA., U.S.A." featured an exceptional No 788 Brake with four horses, a driver, and seven passengers.  One of my favorites is the No. 703 Chariot, Three Horses, Clown.    Number 866 is a Nickel-Plated stove or Eagle Range at over 8 inches long (there was also a 10″ long as well as 12 1/2″ long version too!). The giant swath Hubley cut across collectors' consciousnesses seems endless…
Hubley Pictures
Below is a sampling of Hubley cast iron toys we have offered for sale.  -Motorcycles, planes, banks. Contact us if you have any race cars or motorcycles for sale, as our collectors would love to find new-to-market Hubley toys.  Thanks in advance!